Playing Catcher
On the subject of playing catcher, I feel I can confidently state, if I asked 100 baseball fans "Who is the Toughest Player on the Field?" … All 100 would say the Catcher and I totally agree with them.
The catcher is not only abused by the very nature of playing his position, squatting … really, but he has his entire pitching staff trying to hurt him with wild pitches, foul tips looking for a vulnerable spot and players possibly much, much bigger than him, trying to run over him. This is all before he puts on his uniform.
 Tools of Ignorance is what the primitive catching gear was referred to, and although and in spite of technology bringing us a long way, the catcher still has to be the toughest player on the field.
So we go out and find the toughest and dumbest player we can and make him a catcher, Right? That would be the worse decision you'd ever make as a coach.
The Catcher is also the smartest player on the field. I'm not referring to speaking French or performing calculus, I'm talking about baseball and players.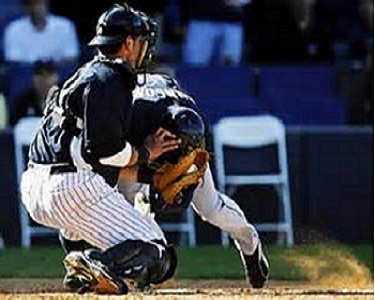 Playing Catcher ain't Playing
He must know every strength and weakness of his pitching staff.
He must know every strength and weakness of opposing hitters.
He must know the speed of opponents and their willingness to try and steal.
I could go on & on about the skills required to play the catcher position, but you already know they are numerous and difficult.
The following Lesson Links will teach you the skills required to become a good catcher. The lessons are intense and broad in their nature, because that's what's required of a catcher.
The order of the links are not important, but the information is. Read them carefully, think about them, digest them. As my teaching nature, there will be some over-lapping and redundant information with little twists of differences. I hate to be redundant, but I had success teaching in this manner and I believe you will too.
Learning Catching Skills 101:
Catcher Physical Skills Development
Baseball Catcher Blocking Techniques
Catcher Mental Mental Skills Development
Drills
General Baseball Catcher Information
Playing Catcher to Learn Youth Baseball Coaching
---