Spring Signups
  Spring Signups and Training Drills begin entering our thoughts at the first sight of a Robin flying back North. Football, which is my second love, is over and now my thoughts return to America's game …Baseball.
  As a Little league coach my current responsibilities actually depend on how the league, association or organization operates. If the league acts as a pure draft, you get what you get, and they call all the shots as to what equipment you receive and your game schedule, you can actually just about go back to sleep.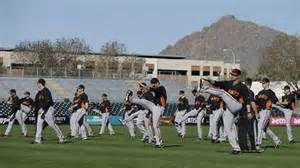 But if you're in a Hand Picked league, where only brand new coaches or Tee Ball and 1st year player teams are drafted, then your season has begun.
  Naturally, the first item to be addressed is the compiling of your team. I'll assume you have a roster of players already in mind, possibly leaving 1 or 2 spots vacant in case a new super star moved into the area since last year.
  When I say vacant, I mean a maximum number of players you want on the team. If you want to carry 12 players, you may have 11 already in mind with 1 spot available for an unexpected player.
It's time to plan a team meeting where the players will sign the official roster and you'll brief parents on your intended plans for the season. Even if it's your second year of coaching the same team, it's a good idea to review your goals and express any new ones. There should always be new ones. A team which doesn't evolve and change, won't become any better.
  *** Be sure to have your players bring a copy, which you can keep, of their birth certificates when they sign the roster. Your league may not require the proof of age, or may require it only at the time of registration and payment of fees.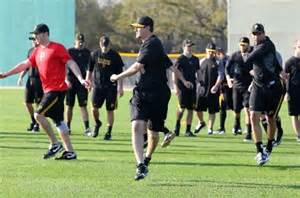 Spring Signups - Warming Up
  However, if you enter any out of town tournaments they may require proof of age. Even if they don't it's an excellent idea to have them with you in case there's any question about your larger than average first baseman. Some poor loser coaches will try and make your life miserable accusing you of having ineligible players on your roster. Better to have the proof and quickly shut them up than defend yourself the entire tournament.
  If you need or want new uniforms this season, it is the time to seek out sponsors. Don't worry if you feel like you're starting too early, which you are not.
  I'd rather hear "Get back with me next month" from a potential sponsor than "I'm sorry, I promised so & so last week."
  It's also time to begin dusting off your practice guide and writing up a new one. Set a course of how you intend to become the League Champions this year. 
  Ah, Spring Training Drills. What a nice sound.
Spring Signups to Coaching Baseball Tips
---