U S 
Cellular

 Field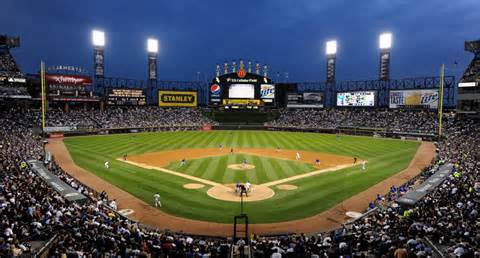 U S Cellular Field at Night
US Cellular Field has been the home field of the Chicago White Sox since 1991 when they moved from the old Comiskey Park stadium, where they had played for 81 years. The new park originally opened under the Comiskey name, but US Cellular bought the naming rights for $68 million over a 20 year period and immediately renamed the stadium … US Cellular Field.

The new stadium was built directly across the street from the old park, which was demolished and replaced by a parking garage to serve the new park. Until its demise Comiskey Park had been the oldest stadium in the major leagues, but that distinction now falls to Fenway Park in Boston.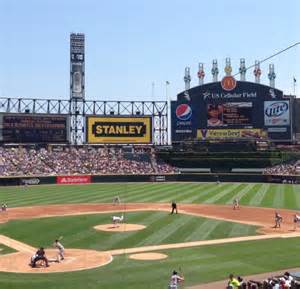 The stadium, the first new major sporting facility built in Chicago since 1929, was built in response to White Sox owner, Jerry Reinsdorf's threat to move the team to Tampa Bay if Chicago did not build a new stadium. 

Trouble In Paradise:

The White Sox got their new stadium, but it was greeted with instant complaints from the fans. The stadium was modeled after Kauffman stadium in Kansas City, the first retro-fit stadium built solely for baseball. 

The Upper Deck was built to Set Back over the Lower Deck, which eliminated overhang problems which other parks had experienced, but by doing this the design created one of the highest upper decks in baseball. 
The First row of seats of the upper deck was as high and as far away from the field as the Last row of seats in the old stadium. The pitch and angle of the upper deck gave many fans the feeling of vertigo.

Fans also complained that the roof, which covered the upper deck was too small, unlike the old stadium which covered the entire upper deck. Nor were they pleased with the exterior design maintaining it was much too modern looking.

Attempting to calm fans anger, a steady remodeling of the stadium was begun in 2001 and continues. New features such as, building a multi-tiered concourse beyond center field, adjusting outfield fences to reduce the appearance of the field being too symmetrical and the most important change, the removal of 6,600 seats from the upper deck.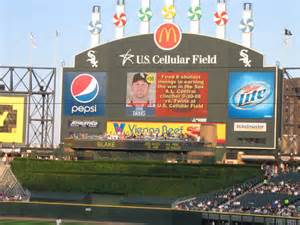 U S Cellular Field
Amenities Galore / Specs
US Cellular Stadium has a huge amount of eateries, displays and statues of past ball players. The following list is not all-inclusive, but will give you an idea of the scope of amenities available.

1. Fan Deck

2. Bull Pen Sports Bar

3. Rain Room Café

4. Gold Coast Tickets Club

5. Statues Of Baseball Players include, Minnie Minoso, Carlton Fisk, 

Frank Thomas, Harold Baines, Nellie Fox, Billy Pierce, Charles Comiskey, and Luis Aparicio.

6. 103 Luxury Seats & 1822 "Club Seats"

7. 38 public restrooms

8. 12 escalators & 15 elevators

US Cellular Park Specifics:

Location: 33 West 35th Street Chicago, Ill. 60616

 Date Construction Began - May 7, 1989

 Construction Cost: - $167 million

 Opening Date - April 18, 1981

 Playing Surface: - Kentucky Blue Grass

 Seating Capacity: - 47,609

 Playing Field Dimensions:

Left Field - 330 feet

Left Center Field - 375 feet

Center Field - 400 feet

Right Center Field - 375 feet

Right Field - 335 feet

Back Stop - 60 feet

Outfield Wall Height - 8 feet
U S Cellular Field to Baseball Stadiums
---