Turner Field
Turner Field, Home of the Atlanta Braves baseball team of the MLB National League, Eastern Division.

In 1987 the aging Fulton County stadium provoked discussions of the need for a new baseball stadium, but commencement of construction wasn't begun until July, 1993 and the need for a baseball stadium wasn't the main reason the stadium was built.

The stadium was built for the 1996 Olympics, which was held in Atlanta, Georgia, as a multi-purpose facility and was originally named Centennial Olympic Stadium, before it was retro-fitted into a baseball stadium immediately after the conclusion of the 1996 Olympic games.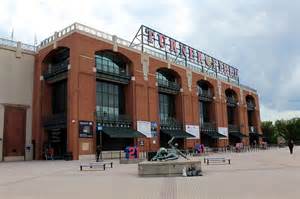 The stadium was located adjacent to the former Atlanta-Fulton County Stadium, which was torn down upon the transformation of the new facility into a baseball park.
Possibly because it was located on public land and the city had provided 100% financing to build the stadium, although not originally intended as a baseball facility, the naming of the facility became a political football. Many fans wanted the Ball Park named Hank Aaron Stadium, after the Braves great outfielder and home run king. 

In order to strike a compromise and avoid tainting the stadium's image, the stadium was named after Ted Turner the Atlanta Braves baseball team owner, but the street on which the stadium sits was named Hank Aaron Drive and was given the address of 755, the total number of home runs Aaron hit, which seemed to appease everyone.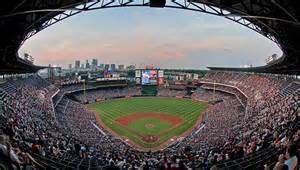 One iconic feature the park has is an elevated walkway entrance on the North side of the stadium, which travels over the exact location of the former Fulton County stadium, where the playing field and bases of the former field is designated with paint on what now is a parking lot.

Maintaining a city civic theme, the Ball Park's Left Field Vista is dominated by advertising from Atlanta's two major businesses.

The Coca Cola Sky field area, which is an area of picnic tables where fans can sit and view the game, there's a huge 38 foot tall Coca Cola bottle, featuring a HD display around the label and LED lighting.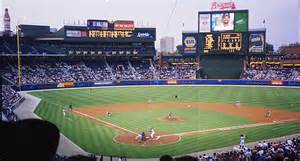 Adjacent to the Coke bottle is a 40 foot Chic-fil-A Cow wearing a Braves baseball cap and performs the Tomahawk Chop along with the fans as a rotating sign, which says "Eat More Chikin" campaign slogan flashes.
Monument Grove is located at the stadium's Grand Plaza front entrance and includes trees and benches where fans can sit and admire the numerous statues of former great Brave's players such as Hank Aaron, Phil Niekro and Ty Cobb along with others.

In order to raise more revenue and to cater to Atlanta's elite, in 2007, 158 seats were installed behind home plate, which are only 43 feet from the field and the patrons have access to a 5000 square foot lounge located adjacent to the Braves clubhouse. These of course are the most expensive seats in the stadium.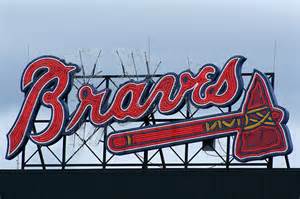 Turner Field Specifics:

Location: 5 Hank Aaron Drive Atlanta, Georgia 30315

Date Stadium Opened: July 19, 1996 as Centennial Olympic
Stadium - March 30, 1997 for Baseball

Playing Surface: - Grass

Construction Cost: - $ 209 million

Seating Capacity: Olympic Stadium - 85,000 
Baseball - 50,097 / standing room 54,357

Field Dimensions:

Left Field - 335 feet
Left Center Field - 380 feet
Center Field - 401 feet
Right Center Field - 390 feet
Right Field - 330 feet
Back Stop - 43 feet
Turner Field to Baseball Stadiums
---