Sun Life
Sun Life Stadium, located in Miami Gardens, Florida, a suburb of Miami, has also been named Joe Robbie Stadium, Pro Player Park, Pro Player Stadium, Dolphins Stadium and Land Shark Stadium, and is home to the Miami Dolphins NFL football team, University of Miami Hurricanes and the Florida Marlins. In January, 2010 Sun Life agreed to buy the naming rights for 5 years for $37.5 million dollars.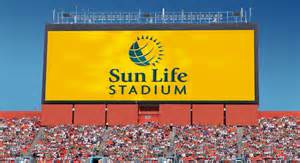 The original stadium (Joe Robbie Stadium) was intentionally built as a multi-purpose stadium which would require minimum renovation to be retro fitted for baseball. In 1990 H. Wayne Huizenga, CEO of Block Buster Video, bought 50% ownership of the stadium and began pursuing a major league baseball team. In July 1991 Florida was awarded a baseball franchise, the Florida Marlins, which was placed in the National League Western Division. 

Many in Florida feared the renovation of the stadium for baseball would become a problem similar as experienced by Exhibition Stadium in Toronto, where there were many seats located so far from the field they were never sold. However, because Robbie had the foresight to build the stadium eventually for baseball, the modifications were painless and unobtrusive.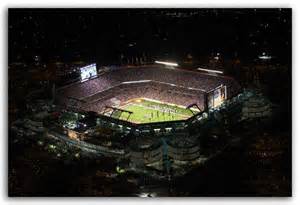 The Ball Park's baseball seating capacity was reduced to 47,600 by covering most of the upper level with a tarp because of the desire to create a more fan friendly atmosphere and because the upper deck seats were located too far from the field, and was further reduced to 36,500. 

For the 1997 World Series the Marlins opened the upper deck seats and played before a crowd of 67,000 fans, largest crowd ever to see a baseball game, with only the exception of the 1959 World Series played at Los Angeles Memorial Coliseum.

Although it was designed to accommodate a transformation from football to baseball, the stadium is not a true multi-purpose facility, but rather a football stadium which can accommodate baseball. Most of the seats face center field, which would be facing the 50 yard line in a football configuration, and the line of sight is not good for baseball.

Sun Life Stadium Specifics:

Location: 2267 NW 199 Street Miami Gardens, Florida

Broke Ground: December 1, 1985

Stadium Opened: August 16, 1987

Playing Surface: Natural Grass

Seating Capacity: 74,918 Soccer - 75,192 Football - 38,560 Baseball

Field Dimension: 

Left Field - 330 feet

Left Center Field - 361 feet

Center Field - 404 feet

Right Center Field - 361 feet

Right Field - 345 feet

Back Stop - 58 feet

www.
sunlifestadium
.com
---