Safeco Field
Safeco Field, a retractable roof baseball stadium, is the Home of the Seattle Mariners of the Western Division of the American League. It is also referred to as simply Safeco or the Safe.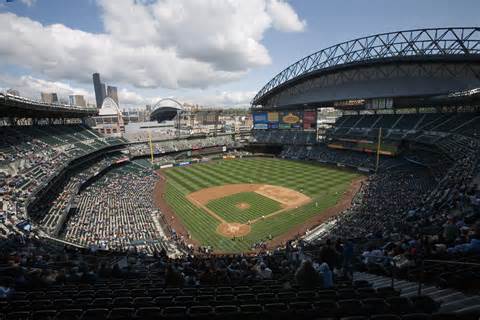 Quick History:
The Mariners had been playing their home games in the Kingdome, which was rapidly falling into disrepair and could cost more to renovate than building a new stadium. A proposal for a new tax to finance the construction of a new ball park was voted down by the city, increasing the chances the Mariners may move to another city.

The Mariners final run for the pennant in 1995 changed the city's interest in retaining the team. Although 13 games out of first place, the Mariners mounted a late season charge for the division title and defeated the California Angels in a one-game playoff.
They then went on to win a remarkable series against the New York Yankees, decided by a double, in the 11th inning of the final game, by Edgar Martinez. This hit has become known as The Double similar to Willie Mays great fielding play known as The Catch.

This renewed interest in baseball prompted the creation of financing for a new stadium.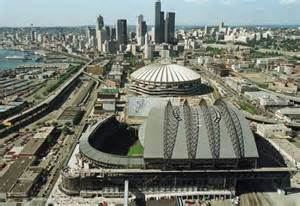 Safeco Field Layout & Design:
The stadium has Four main entrances on each corner of the facility and one entrance through the Mariners' Team store, for a total of five. There are 5 levels to the stadium, Field, Main Concourse, Club level, Suite level and Upper Concourse. There are two bleacher sections located in Left Field and below the Center Field scoreboard. Elevators and escalators are located through-out the ball park for easy access to the various levels.
Food:

The choice of food far exceeds the normal baseball menu of hot dogs & hamburgers, although there are ample supply of these types of vending services. 

The Pen, also called the Bullpen Market, offers sushi, burritos, teriyaki, stir-fries, pad Thai, sea food and health food, to name a few of the selections.

There are numerous exclusive restaurants which cater only to the wealthier season ticket holders such as, the Diamond Club and the Wells Fargo Terrace Club.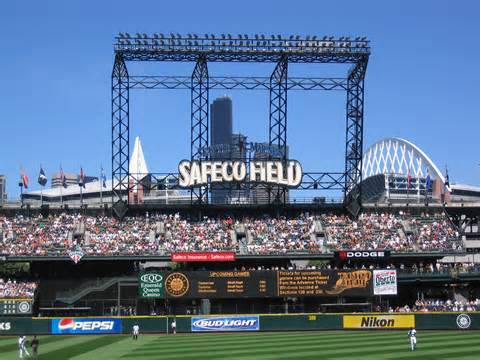 Retractable Roof: 
The retractable roof of Safeco Field is like no other in the major leagues, intended to be more of an umbrella for the field and stands than a completely enclosed stadium with Climate Control.

Seattle's normal climate usually does not require the heating or cooling of a facility such as a stadium, but the always present chance of showers did present a problem which had to be addressed, thus the unique roofing.

The roof consist of 3 individual sections, which move independently on their own set of tracks and are powered by electric motors. Each panel is self- sustaining and does not depend on one another for strength. The sections are normally controlled by computers, but can be moved in manual over ride, and takes 10 minutes to Fully Close from a Fully Open position.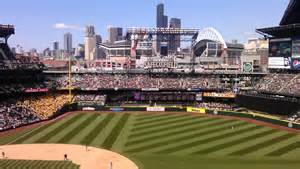 Roof Ground Rules / Safeco Stadium Specifics:
As with all roofed stadiums there are specific ground rules which apply to the structure. 

1. If a ball hit's a roof truss in fair territory, it's judged fair or foul by where the ball lands.

2. A ball hitting a roof truss is considered In Flight and if the ball is caught before hitting the ground, it's a normal fly out.

3. A ball hitting a roof truss in Foul Territory is a foul ball no matter where it may land.

Location: - 1516 First Avenue S - Seattle, Washington 98134

Broke Ground: - March 8, 1997 

Date Stadium Opened: - July 15, 1999

Playing Surface:  Kentucky Blue Grass / Perennial Rye Mixture

Construction Costs: - $517.6 Million Dollars

Seating Capacity: - Baseball 48,052 standing room only 
Football - 30,144

Playing Field Dimensions:

Left Field - 331 feet

Left Center Field - 390 feet

Center Field - 405 feet

Right Center Field - 385

Right Field - 326 feet



Safeco Field to Baseball Stadiums
Learn Yoiuth Baseball Coaching
---