Rangers Ball Park
Arlington Texas, located between Dallas and Fort Worth, is the home of Rangers Ball Park, where the Texas Rangers of the American League West Division play.

Its' original name was The Ballpark in Arlington, but in 2004 Ameriquest corporation bought the naming rights and renamed the park Ameriquest Field in Arlington, until 2007 when the Rangers regained naming rights and changed the name to Rangers Ballpark in Arlington.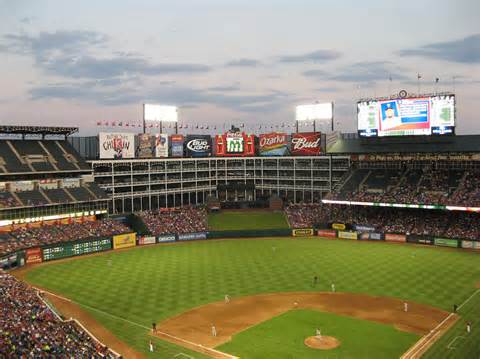 Design & Construction
The apparent philosophy of the designers of Ranger park was to pick and choose, what they considered the best or most unique features of other major league parks, and incorporate them into the facilities design. For instance:

1. a roofed home run porch in right field resembles Tiger stadium in Detroit.

2. The White Steel Frieze that surrounds the upper deck was copied from the pre-1973 Yankees stadium in New York.

3. A state-of-the-art video screen was built into the left field as does Fenway Park in Boston.

4. The numerous nooks and crannies of the outfield are reminiscent of Ebbets Field & the arched windows copy Comiskey park. 
Although incorporating these unique features from other famous ball parks produced a truly amazing ball park, the stadium had little to no character of its own.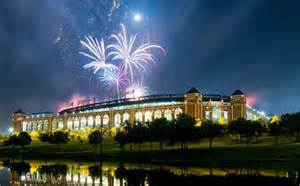 Complaints
As should be expected for any professional sports team located in extreme heat, the sports writers and newspapers immediately protested the fact the stadium was an "open air" facility and it should have been built with a retractable roof or dome.

The writers argued it would have added to fan comfort, but more importantly, the writers felt the sweltering summer heat posed a major problem signing free agents, especially pitchers who would "run out of gas" due to the heat and humidity.

Two major reasons prevented the Rangers from including a retractable roof:

1. Retractable roof technology, although available, was in its infancy and had not been perfected.

2. Lack of Money. The Rangers could not secure government financing for a roof and the cost of the roof alone was 6 times the cost of building the entire stadium, it was dropped as cost prohibitive.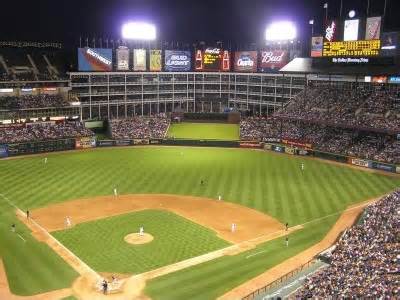 Renovations / Rangers Ball Park Specifics
As with all major league ball parks, Ranger Park seems to be constantly remodeling or refurbishing the facility in order to increase the fans pleasure and comfort.
1. New HD video boards have been installed in right field on top of the " Home Run Porch " and in Center field on top of the office building.

2. The audio system in the park has been completely changed with additional speakers located throughout the facility.

3. The Left Field scoreboard was replaced with an updated HD board.

Location: 1000 Ballpark Way Arlington, Texas 76011

Broke Ground:  April 2, 1992

Construction Cost: $ 191 million

Date Opened: April 1, 1994 

Playing Surface: Grass

Seating Capacity: 52,419 standing room only
Field Dimensions:

Left Field - 332 feet

Left Center Field - 390 feet

Deep Left Center Field - 404 feet

Center Field - 400 feet

Deep Right Center Field - 407 feet

Right Center Field - 377 feet

Right Field - 325 feet

Back stop - 60 feet


Rangers Ball Park to Baseball Stadiums
Learn Youith Baseball Coaching
---