Progressive Park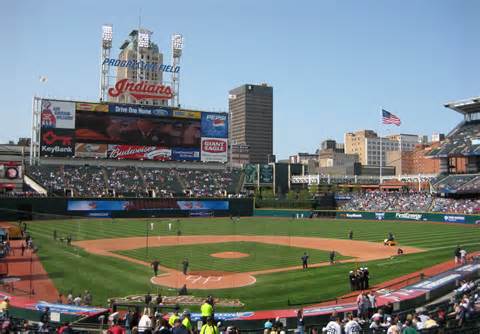 Progressive Park, located in downtown Cleveland Ohio, is the home of the Cleveland Indians MLB team, and was originally named, from 1994 to 2008… Jacobs Field. in 2008 Progressive Insurance company bought the naming rights for $57.6 million over a 16 year period and the name was changed.

Fans refer to the park as Jake, referring to the original name, or The Pro or Prog, short for Progressive.
 History




Since 1947The Cleveland Indians played in Cleveland Municipal Stadium, a facility shared with the Cleveland Browns NFL football team. Because of the multi-purpose venue of baseball & football, the stadium was quite large, seating 75,000 fans. This vastness resulted in an otherwise good crowd of 40,000 fans appear quite small.

Beginning in 1985 fans and players began complaining about the stadium's age and its' lack of modern amenities. In May of 1990 county voters agreed to a 15 year, so called "Sin Tax", tax on alcohol and tobacco products in order to finance a new stadium through the Gateway Sports and Entertainment Complex.

In June 1982 the Indians held a ceremonial first pitch, which featured Mel Harder, who pitched the opening game of Cleveland Municipal Stadium in 1932.
The stadium's first baseball game was played on April 4, 1994 and featured President Bill Clinton throwing out the first ceremonial pitch. The game ended in a 4-3, 11 inning Indian victory over the Seattle Mariners. 

Stadium Features And Amenities





The Park has several unique features, such as the 19 stadium lights, located 218' above field level, which are shaped to resemble a Tooth Brush.

The field is encompassed by a unique asymmetrical fence of varying heights. The wall is 19 foot high in Left Field, but beginning in Center Field, drops to 9 feet continuing to the Right Field Foul pole. 

Both bullpens are raised above the playing field level so fans can see who is warming up. The Indians bullpen is located in Center Field and the visitors in Right Field.
In 2004, what was then the Largest Video screen in the world, measuring 36' high and 149' long was installed in Left Field.

The stadium has various eating facilities ranging from the very exclusive Terrace Club, which requires membership and a paid ticket, to the Bud Light Party Deck and Kids-Land.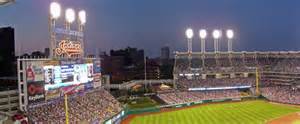 Progressive Park Field Specifics





Location: 2401 Ontario Street Cleveland, Ohio 44115

Broke Ground: January 1992

Opened:  April 4, 1994
Playing Surface: Kentucky Blue Grass
Construction Cost: 175 Million

Seating Capacity:  43,411

Field Playing Dimensions:

Left Field - 325 feet

Left Center Field - 370 feet

Center Field - 405 feet

Deep Center Field - 410 feet

Right Center Field - 375 feet

Right Field - 325 feet

Progressive Park to Baseball Stadiums
Check Out The Cleveland Indians Site
---