PNC Park
PNC Park replaced Three Rivers Stadium as the home to the Pittsburg Pirates Baseball team, which play in the Central Division of the National League. 

The need for a replacement baseball stadium for the aging Three Rivers Stadium began surfacing in 1991, but political bickering delayed the start of construction until 1999, when funds were approved for the construction in conjunction with the building of Heinz Field & David L. Lawrence Convention Center.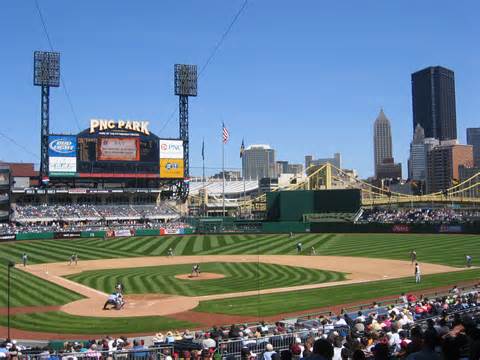 The new stadium is built in the traditional "Classic Style," similar to Fenway Park which is currently popular, but added some unique features of its own such as the use of limestone in the building's facade, a riverside concourse, steel truss work and an extensive Out of Town scoreboard.
Playing Surfaces:

The playing surface of the park is known as Tuckahoe Blue Grass, which is a mixture of several different types of Kentucky Blue Grasses. This type of grass was chosen because of its extreme quality the grass provides in weather conditions normal for cities far North.

The infield dirt consist of a mixture known as Dura Edge All-Star Infield Mix, which was designed specifically for PNC Park, with the outfield "Waiting Track" being crushed lava. The park's drainage system is designed to adequately drain rainfall of 14" per hour.

Unlike other MLB stadiums, the Pirate's dugout is located along the Third Base line instead of the First Base line, in order that the home team has a view of the city skyline.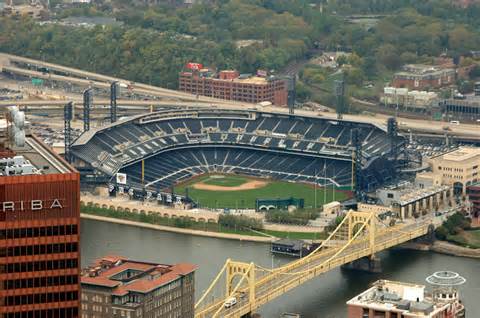 Amenities:





PNC Park is the second smallest MLB ball park, behind Fenway park, seating 38,496. The seats are angled toward the playing field and the aisles were lowered in order to create the best view possible for the fans. 

PNC's vendor, Aramark, is the same vendor which serviced Three Rivers Stadium, but the premium seating areas, such as the Lexus Club, PBC level and Suites level are serviced by Levy Restaurants. 

The Main Eating Concourse is known as Tastes of Pittsburgh features a wide range of traditional ball park food, home town specialties and exotic fare like sushi. Pittsburgh hometown favorites include Primanti Brothers sandwiches, Mrs. T's Pierogies, Quaker Steak & Lube, and Benkovitz Seafood.

The Pirates created a unique seating area known as All You Can Eat section located in the right field corner where fans can eat an unlimited amount of hotdogs, hamburgers, nachos, salads, popcorn, peanuts, ice cream and soda for the entire ball game.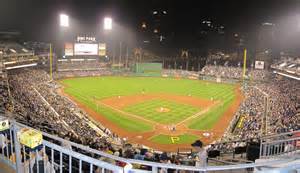 Park Specifics:
Location: 115 Federal Street Pittsburgh, Penn. 15212

Broke Ground: April 7, 1999

Stadium Opened:  March 31, 2001

Surface: Grass

Construction Cost: $216 million

Seating Capacity: 38,362

Field Dimensions:

Left Field - 325 feet

Left Center Field - 383 feet

Deep Left Center Field - 410 feet

Center Field - 399 feet

Right Center Field - 375 feet

Right Field - 320 feet

Back Stop - 51 feet


---