Nationals Park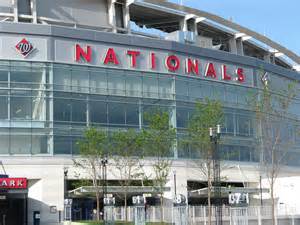 Nationals Park, located in Washington D.C., is the home of the Washington Nationals baseball team, which plays in the National League Eastern Division. The team, formerly the Montreal Expos, played their games in RFK stadium for the first 3 years after moving to Washington, before moving into the newly constructed Ball Park.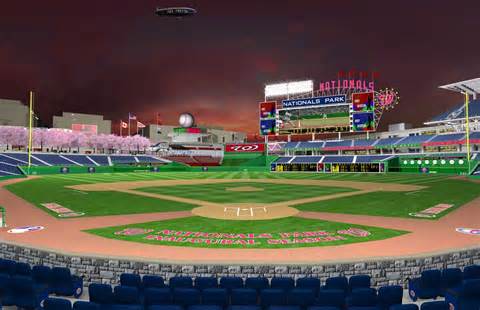 The Nationals origins begin in Montreal Canada, when in 1969 MLB granted an expansion franchise to the Canadian city, the first baseball franchise in Canada. They played their games in Jarry Park Stadium, then moved into Olympic Stadium as the team's popularity and attendance increased.

The team reached the playoffs in 1981, winning the first round against the Phillies, but losing to the LA Dodgers for the championship. In 1994, a strike shortened season, the Expos had the best winning record in baseball. After these two bright spots in Expo history, the management began getting rid of high priced and popular players. The winning percentage plummeted as did attendance.
After the 2001 season MLB threatened to revoke the franchise and in 2002 took over the team's operation before moving the franchise to Washington D.C and renaming it the Washington Nationals. Ironically, in 1972 MLB had taken Washington's previous team, the Washington Senators, and moved them to Arlington Texas as the Texas Rangers.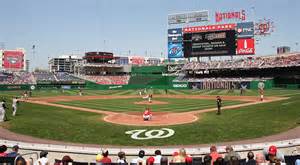 Nationals Park is designed to mimic other ionic building in the capital, constructed of limestone and glass, but the stadium's limestone is actually pre-cast concrete with a limestone appearance. 
The stadium seats 41,000 and sits on a 21 acre tract of land which formerly consisted of warehouses, parking lots, asphalt plants, 5 residences and a strip of gay night clubs, which were seized by Right of Eminent Domain and torn down.

Although the ball park has been referred to as a River Front stadium, it's actually a short distance from the banks of the Anacostia River, but there are plans to construct a Public Plaza which will tie the Southeastern entrance to the river front. Property located directly South of the park is destined to become RiverFront on the Anacostia, which will run along the river front a mile in each direction.
Currently there are outfield seats along the first base line and several sections along the third base side which have views of the Capital Building, but planned construction in the area will eventually block all views of the Capital.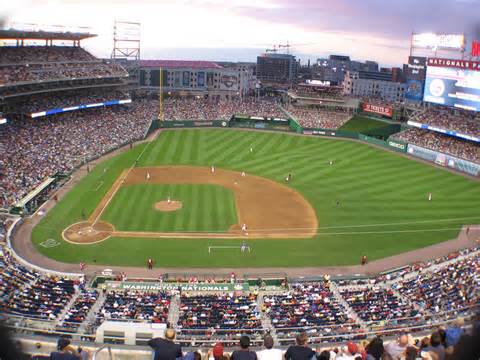 Amenities
Concessions & Retail Stores


There is 28,000 square feet of concession stand space dedicated to selling traditional baseball food, 7700 square feet of novelty and retail sales space and nearly 65,000 square feet of restaurant space.

There is a "Family Experience" called the Strike Zone which includes a Build-a-Bear shop, karaoke station and batting cages.

Nationals Park Field Dimensions 

Left Field - 336 feet

Left Field Power Alley - 377 feet

Center Field - 402 feet

Right Field Power Alley - 370 feet

Right Field - 355 feet

Nationals Park to Baseball Stadiums
---