Minute Maid Park

Minute Maid Park, also referred to as The Ball Park at Union Station, Enron Field and Astros Field, located in downtown Houston, Texas, is the home field of the Houston Astros, who play in the Central Division of the National League.
The ball park is the second stadium built for the Astros, with the first being the famous Astro Dome, which was the first totally enclosed baseball stadium. However, Minute Maid Park is not totally enclosed, but has a retractable roof which protects fans from the Houston extreme humidity and heat, but allows the benefits of an open air stadium during nice weather.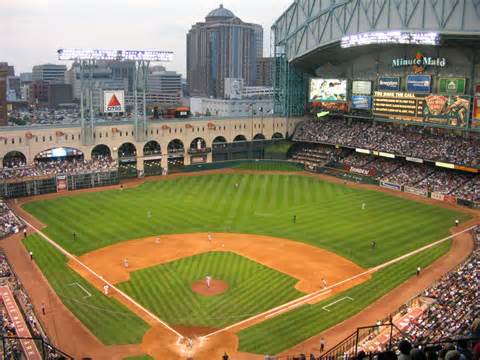 Naming Nightmare:

The stadium was originally named Enron Field, after the huge Houston energy giant, but when the company collapsed in bankruptcy due to the largest corporate scandals in history, the naming rights were reclaimed and the park was renamed Astros Field.

In 2002 Minute Maid, a fruit-juice subsidiary of Coca Cola, purchased the naming rights for the next 28 years for $170 million.

Features: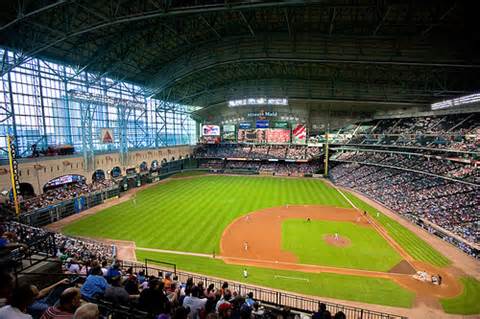 The Astros' former home, the Astro Dome, was considered an extremely Pitcher friendly ball park, Minute Maid has proven to be extremely Hitter friendly, especially in left field (315') with only 6 other stadiums seeing less runs scored for a season.

Although, as a whole, being hitter friendly it is quite difficult to hit a home run to center field which is 436' away from home plate. Center field is not only difficult to hit homes in, it's difficult to field fly balls hit there, due to a 90' wide center field incline known as Tal's Hill, named after team president Tal Smith. Modeled after Crosley Field's infamous Left Field Terrace, the slope is strictly decorative in nature and includes a flag pole which is in the field of play. 

In 2004 the Astros, for a fee, offered Wi-Fi internet service for the fans in the stadium, while also providing a closed-caption score board for the hearing impaired, first of its' kind.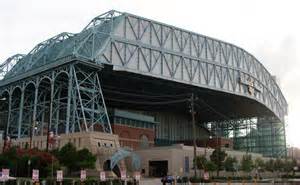 Another feature built in 2004 was the visitors bull pen, which is built entirely inside the exterior wall next to the Crawford boxes, which makes it totally an inside facility with only windows to the field of play for viewing.
In 2006 the Astros introduced fowl poles with Chick-fil-a chickens posed on them holding signs which read "Eat Mor Foul." The chickens wear Astro baseball caps and if the fowl pole is struck by a hit ball, every person in attendance receives a Free sandwich.

In 2008 the Astros again became trend setters in turf, originally Astro turf, then installing a new sod known as Platinum TE Paspalum on the 2.3 acres of playing surface. The grass is specifically designed for Minute Maid Park.

Minute Maid Park Specifics:

Location: 501 Crawford Street Houston, Texas 77002
Broke Ground: November 1, 1997

Stadium Opened: April 7, 2000

Construction Cost: $250 million

Seating Capacity: 43,836 w/standing room

Field Dimensions: 

Left Field - 315 feet

Left Center Field - 362 feet
Left Deep Center Field - 404 feet

Center Field - 436 feet

Right Deep Center Field - 373 feet

Right Field - 326 feet

Back Stop - 49 feet

Minute Maid Park to Baseball Stadiums
---