Miller Park
Miller Park, located in Milwaukee, Wisconsin is the home of the Milwaukee Brewers replacing the former home park, Milwaukee County Stadium. 
Miller Park, being one of the largest construction projects to ever be undertaken in Wisconsin, encounter problems from its concept. The stadium was financed with a .1% sales tax charged in Milwaukee County and the following four adjacent counties of Racine, Washington, Ozaukee and Waukesha county. The tax was hotly debated for a public tax being used to build a privately owned stadium.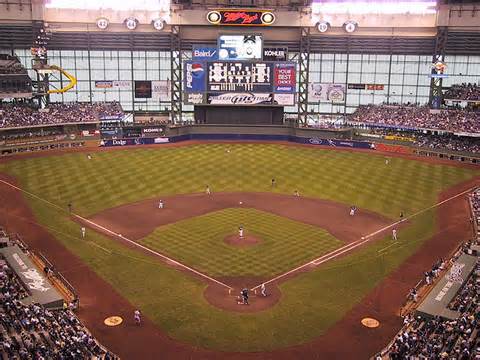 George Petak, a state senator from Racine, cast the deciding vote in favor of the stadium, costing him his job as he lost in a recall election which was prompted by the single vote.

Ground breaking commenced on November 9th, 1996 in a parking lot located behind County Stadium, and completion was scheduled for the 2000 season. However, the massive Lampson Transi-lift crane, which was brought in to build the stadium's roof, collapsed while lifting a 400 ton section of roof and killed 3 construction workers.

This stadium did not open until 2001.The retractable roof consumed a large portion of the $290 million dollar price tag, but it was deemed necessary in order to insure games could be played in inclement weather. The roof is built in a unique convertible style, with roof panels opening and closing simultaneously in a sweeping manner, from the two sidelines towards the center field.


The roof allows the stadium to be heated 30 degrees hotter than the outside temperature.

The Fan shaped roof was extremely complicated to build as major elements of the pivot system behind home plate and the outfield roof track had to be replaced. The roof's bogey system had to be replaced at the cost of $13 million dollars. Six of the bogies weigh 66 tons and four others weighed 49 tons. The work was completed with the utilization of hydraulic lifts raising the bogies 6" off the ground where a 300 ton crane lifted and replaced the sections.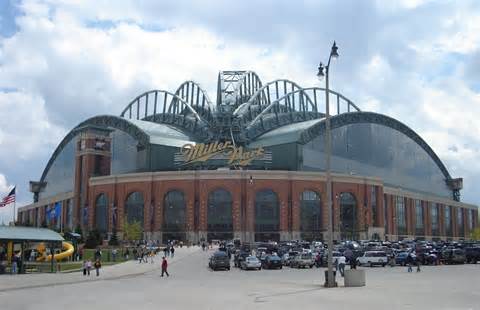 Turf / 
Unique Attractions
In 2009, Miller Park's outfield was ripped out and replaced with "Lo-Mo" Kentucky Blue Grass, the same turf as the infield. The new turf is denser and has a sand base instead of sand and clay, which allows truer hops to outfielder and reduces skips which shoot under a fielder's glove.
The Klement's Sausage Race is held every home game in between the top and bottom of the 6th inning. The racing sausages include a Bratwurst, the Italian, the Polish, a Hot Dog and added in 2006, the Chorizo for Latin fans.
Bernie Brewer, the Brewer's mascot occupies a club house above the left field seats. After every Brewer home run or home victory, Bernie jumps into the new Kalahari Splash Zone area, which then shoots an explosion of water into the air and down onto fans.
In the old Milwaukee County Stadium Bernie would slide down into a giant mug of beer, sponsored by Pabst, Miller and Sentry Foods. During the home run celebration fireworks shot out of the center field score board and above Bernie's club house, the voice of the Brewer's Announcer Bob Uecker yelling "Get up, Get Up, Get Outta Here, Gone!"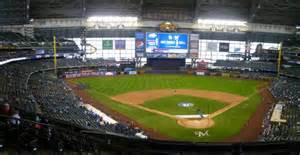 Miller Park Specifics




Location: One Brewers Way Milwaukee, Wisconsin 

Broke Ground: November 9th, 1996

Date Opened: April 6th, 2001

Playing Surface: Grass

Construction Cost: $400 million

Seating Capacity: 41,900

Field Dimensions: 

Left Field - 344 feet

Left Center Field - 371 feet

Center Field - 400 feet

Right Center Field - 374 feet

Right Field - 345 feet

Back Stop - 56 feet

Miller Park to Baseball Stadiums
---