Kauffman Stadium
Kauffman Stadium, home of the Kansas City Royals MLB team, formerly known as Royals Stadium or The K was built in 1993 as a baseball only venue, which was very rare in those days of multi-purpose stadiums. 

Together with Arrow Head Stadium, home of the Kansas City Chiefs NFL team, which is adjacent, the two form the Truman Sports Complex. It is currently the only stadium named after a person, Ewing Kauffman, founder of the Royals ball club.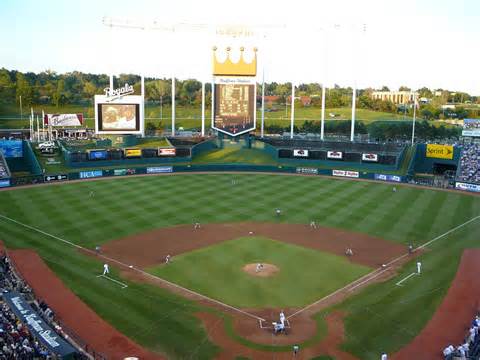 Stadium History
The building of the stadium and its financing were approved by voters in 1967 and in conjunction with the building of Arrow Head stadium, creating the Truman Sports Complex. 
The Kansas City A's, the baseball team which played in Kansas City, owned by Charles O. Finley, signed a new long-term contract to stay in Kansas City and utilize the stadium. 

However, prior to the 1968 season, Finley reneged on the contract and moved the team to Oakland, where they had a new multi-purpose stadium. The Kansas City A's became the Oakland A's and shared the stadium with the Oakland Raiders NFL team

The Double-Cross so enraged Missouri's Senator Stuart Symington that he threatened to introduce legislation stripping baseball of its Anti-Trust exemption status. Baseball quickly responded by granting four cities franchises, Kansas City being one.

Design and Features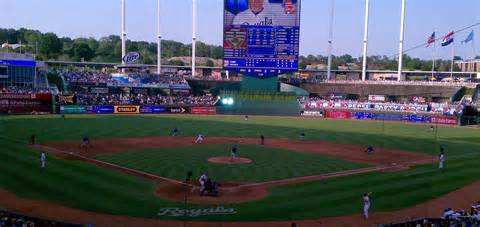 Kauffman Stadium and Dodger Stadium were, at the time, the only Baseball Only stadiums in the major leagues. Although being a 1 venue facility, the stadium incorporated many multi-purpose stadium designs and features.

The Main Stadium is constructed of concrete and sports a smooth concrete façade. The stands wrap around the infield ending at the two foul poles, with smaller bleachers, called Outfield Plazas located in the outfield.
At the time Kauffman was built, the Kansas City Royals were the farthest MLB team west except on the extreme West Coast, which gave them a huge fan base, which included the Rockies and Great Plain States. Recognizing this fact Kauffman installed Astro Turf, which was not normal procedure for an outside stadium at that time, to reduce the chance of a rainout game for fans that had driven 100s of miles to get there.

The creation of the Colorado Rockies reduced the fan base and the Astroturf was replaced with grass in 1995. The drainage system, created by George Toma, famous groundskeeper for every Super Bowl, consisted of 4" perforated tile installed on 12 ½ foot centers throughout the entire field, which allows the field to drain quickly. This design is utilized in many ball parks.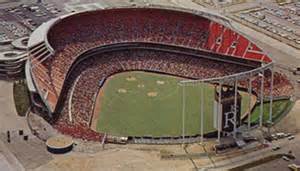 New Lease - New Renovations 
The Royals signed a new Lease Agreement committing the team to stay in Kansas City to 2030 an extension from the 2015 lease date. In return the stadium will be upgraded and improved, for instance:
1. A new high definition scoreboard 

2. Fountain View Terraces & a Kid's area

3. Wider Concourses & Four Additional Ticket Gates

4. Left Field Hall of Fame and Conference Center

5. Right Field Sports themed restaurant(s)

Kauffman Stadium Specifics:

Location:- One Royal Way Kansas City, Missouri 64129

Date Opened: - April 10, 1973

Playing Surface: - Originally Astroturf - replaced with Grass - Blue Grass and Rye combination

Construction Cost: - $70 million

Seating Capacity:  - 37, 903

Field Dimensions:

Left Field - 330 feet

Left Center Field - 387

Center Field - 410 feet

Right Center Field - 387 feet

Right Field - 330 feet

Backstop - 60 feet


Kauffman Stadium to Baseball Stadiums
---