Citizens Park

Citizens Park, home of the Philadelphia Phillies of the National League, Eastern division, and is part of the South Philadelphia Sports Complex, which includes the Wells Fargo Center and the Lincoln Financial Field.

The stadium replaced Veterans Stadium, which had been a multi-purpose stadium which the Phillies shared with the Philadelphia Eagles football team of the NFL. The city agreed to build a new stadium for the Eagles, which would become Lincoln Financial Field and opened in August 2003.

Citizens Park Exterior
The city and the Phillies did not reach an agreement on a new stadium until a year after the Eagles. The ball club wanted a facility built which resembled the parks built in Baltimore, Cleveland, Denver & several other newly constructed stadiums, and wanted Citizens Bank Park to be located in Center City business area, but protest from the Chinese segment of population forced the building of the stadium in the Sports Complex.

Despite all concerned regrets that the stadium was not located in the Center City area, the Phillies still continue to set attendance records, which includes 81 straight sell outs, with average attendance of 45,028 per game.

Saying Citizens Bank Park is Hitter Friendly, is an understatement. In 2004 - 218 home runs were hit and in 2005 - 201 homers were launched out of the park, with the greater majority of the homers being to Left Field. 

In an attempt to reduce the hitter advantage, the Left Field fence was moved out 5' farther from the plate, but the modification had little effect as 149 home runs were hit in 2009, the most of any ball parks in MLB.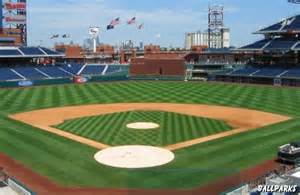 Citizens Park Field
Ashburn Alley




Naming of the new stadium created a rather rowdy debate between citizens who wanted the stadium named Ashburn Stadium, in honor of the legendary center fielder who played for the Phillies from 1948 to 1959 then became their broadcaster from 1963 until his death in 1997, and those who wanted naming revenue.

As a compromise Ashburn Alley was created and is located behind Center Field and the area opens 2 ½ hours prior to the scheduled first pitch. The Alley includes many different attractions such as:

 Tony Luke's, which serves famous cheese steaks and pork roast.

Bull's BBQ, and is named in the honor of former outfielder Greg "The Bull" Luzinski. 
Campo's, which serves Phillie Cheese Steaks, the first Campo opened in 1947.

 Harry The K's Bar & Grill, named after the late Phillies announcer, Harry Kalas.

These are but a few of the attractions located in Ashburn Alley.
 Statues & Tributes: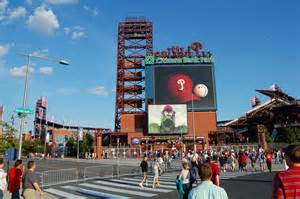 There are numerous statues placed within and around the ball park honoring great Phillie past players. Mike Schmidt  is located at the third base gate, Steve Carlton, at the Left Field Gate, Robin Roberts, at the First Base Gate and Harry Kalas, outside the restaurant bearing his name.

Citizen's Bank Park Specifics:

Location: One Citizens Bank Way Philadelphia, Penn. 

Broke Ground - June 28, 2002

Date Stadium Opened  - April 3, 2004

Playing Surface:  - Kentucky Blue Grass

Construction Cost: - $458 million

Seating Capacity: - 43,651

Playing Field Dimensions:

Left Field Foul Pole - 329 feet

Left Field Power Alley - 374 feet

The "Angle" which is left of center field extending to Left Center Field - 409 feet to 387 feet

Straight away Center Field - 401 feet 

Right Field Power Alley - 369 feet

Right Field Foul Pole - 330 feet


Citizens Park to Baseball Stadiums
Check out the Phillies home page for more philadelphia.phillies.mlb.com/phi/ballpark
---