Camden Yards
Oriole Park at Camden Yards home of the Baltimore Orioles, located in Baltimore Maryland, and was the first of the Retro Fit major league ball parks. Built in 1992 to replace Memorial stadium, it continues to receive high acclaim for its design and amenities.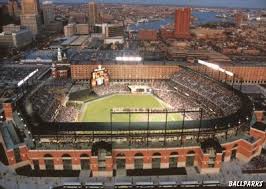 Influence: Since its completion in 1992 the ball park has been a fan favorite with attendance rising from 25,722 per game to 43,290, and unfortunately for the Oriole baseball team, it was not increases spurred by Championship teams. The great success of the park's design was not lost on other MLB cities and a building and retro-fit of stadiums began in 1995 and continues today. The following stadiums have retro-fitted or rebuilt with an eye towards Camden Yards for influence.

1. Rangers Ball Park 1994 - Arlington Texas

2. Coors Field 1995 - Denver Colorado

3. Turner Field 1996/97 - Atlanta Georgia

4. AT&T Park 2000 - San Francisco Ca

5. Comercia Park 2000 - Detroit MI

6. PNC Park 2001 - Pittsburg PA

7. Citizens Bank Park 2004 - Phillie Pa.
8. Busch Stadium 2006 - St. Louis Mo

9. CITI Field in Flushing 2009 - New York City

10. New York Yankees Stadium 2009 - Bronx

11. U.S. Cellular Field 1991/2010 - Chicago ILL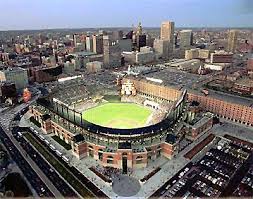 Design
The area of Camden Yards originally was a rail yard which serviced the Baltimore and Ohio Railroad's Camden station. The view over the right field wall is that of the former B&O Warehouses and most seats in the stadium have a good view of the downtown Baltimore skyline.
A statute of Babe Ruth, by Susan Luery, known as "Babes Dream" stands at street level outside the stadium, although the actual playing field is 16 feet below street level.

Camden Yards Specifics
Location: 333 Camden Street Baltimore Maryland 21201
Opening Date: April 6th 1992
Playing Surface: Kentucky Blue Grass
Seating Capacity: 48,876
Field Dimensions:

Left Field - 333 feet

Left-Center Field - 364 feet

Center Field Power Alley - 412 feet 

Center Field - 400 feet

Right-Center - 373

Right Field - 318 feet

Special Attractions:

Eutaw Street, which is between the stadium and the warehouse, is always closed to vehicular traffic, therefore, spectators can get a view of the game or visit the many shops and restaurants that line the thoroughfare, including former Oriole star Boog Powell's outdoor barbecue stand. 

On game days, pedestrians must have a ticket in order to walk on Eutaw Street, portions which are adjacent to the stadium, but on non-game days the street is open to everyone.

What's rather weird is Sections 90–98, called Eutaw Street Reserve, are actually not located in the stadium, but actually is adjacent to Eutaw Street, with the seats descending toward the outfield below. 

If a game sells out, fans may purchase reduced-price "Standing-room only" tickets, which entitle them to enter Eutaw Street and watch the game from two designated standing areas.



Camden Yards to Baserball Stadiums
---