Baseball-Scout
Hear Baseball-Scout whispered and the atmosphere is immediately charged with excitement, intensity and there's an elevation of the seriousness of any baseball game, whether high school, travel league or college level. Why? Because the baseball- scout is a cog, sometimes a very large cog, in the baseball machine which produces dreams.
These dreams aren't necessarily about multi-million dollar contracts, most are actually grounded in the player's education future through scholarships which greatly assist or alleviate the high cost of a college education. It can be the difference between attending college or not.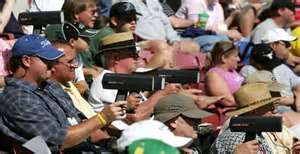 Therefore, I thought it appropriate to give coaches, players and parents a brief look into the secret world of a baseball- scout and try to shed some light on what scouts look for when analyzing a player.
There was once a huge difference between scouting a college player vs. a potential professional, but college programs have become so sophisticated there are few differences in criteria. Obviously a graduating college senior should be more knowledgeable than a high school player, which displays the ability to learn and improve, but that will be overlooked if the athlete excels in another area.
Here is the basic guidelines a baseball-scout looks for in players:
Pitcher:
(1.) Pitchers normally must be able to consistently throw 90 mph although a left handed pitcher can get away with 88 mph; 
(2.) Pitchers should be able to throw a minimum of 3 different pitches; The more pitch types a pitcher can throw the better his chances of holding his own against top caliber hitters.
                                                       Baseball-Scout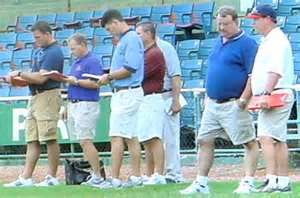 (3.) The pitcher must have control of his pitches; It's of little benefit to throw a 106 mph fastball if you can't control it. Control is a big thing.
(4.) A pitcher must have movement on his fastball;
(5.) He must be able to work both sides of the plate;
(6.) No fear. A pitcher must be able to throw breaking or off speed pitches with two strike counts or behind in the count. If your fastball is the only pitch you trust to get you out of a jam, you'll never make the cut. You must remember highly skilled hitters will adjust to any speed pitch given ample chances.
(7.) Scouts look for mentally tough players. Regardless of the skill, all pitchers get into jams and must be mentally strong enough to weather the situation.
(8.) Injury free. This is why total physical and mental conditioning is important. Scouts understand blisters but are not sympathetic to a sore arm causing pitching assignments to be missed.
Clickbank Products
Most tryouts allow a pitcher 25 - 30 pitches to show their stuff. That's not a lot of opportunity to demonstrate a life's work of training and practice. Be sure to be totally stretched and warmed up, throwing a minimum of 15 minutes prior to your turn on the mound.
                                      Baseball-Scout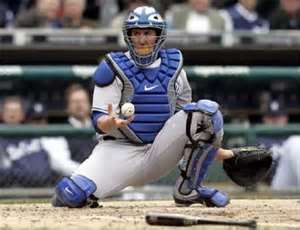 Catchers: - Baseball-Scout
(1.) Physical fitness. Catching is the most physically and mentally demanding position on the baseball field. The ability to lower and raise from the squat position a 100 times or more, in 98 degree temperatures and in full gear is tremendously stressful. If you show up with a pot belly your try-out will be brief.
(2.) A catcher must have Soft hands;
(3.) A catcher must have Quick feet;
(4.) A strong throwing arm with velocity and accuracy;
(5.) He must have a quick release;
(6.) He must have great athletic abilities for not letting balls get by him whether in the dirt or just wild;
(7.) A catcher must posses a Strong Demeanor. This quality is hard to describe as it's mainly a quality displayed over time and experience, but a catcher must be able to handle the stress of calling a game, controlling an entire pitching staff and calming a frayed pitcher. The best advise I can offer is be Confident in your skills. When a person is extremely confident of his/her ability to accomplish a task, it just shows, but remember arrogance also shows and is frowned upon.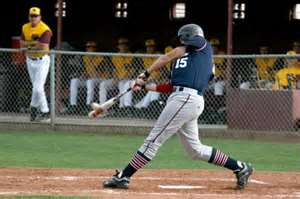 Fielders: -Baseball-Scout
 Infield:
(1.) Arm strength and range are the first 2 things which are examined.
(2.) An infielder must have a quick release with strong velocity to first base and the ball must not tail or sail; Remember your 4 seam grip.
(3.) Execution of routine plays are expected to be flawless. Don't think reaching and squaring up to a ground ball will impress anyone. You must be able to charge balls and throw on the run from awkward positions.
(4.) Possess Soft hands;
(5.) Possess Quick reflexes;
(6.) Possess Quick hands and feet;
Outfield:
(1.) Range and arm strength are the imperative for an outfielder. You may hide a normal arm at second base, but there is no where to hide in the outfield.
(2.) Throws must have strong velocity, straight trajectory, and good carry with a live bounce off the turf; Remember the 4 seam grip, over hand throw, forward momentum and follow through.
(3.) An outfielder must have good range which requires speed; An infielder requires quickness more than an outfielder, but an outfielder can compensate for slower foot speed by getting an instantaneous jump on a ball hit to the gap.
Hitting: - Baseball-Scout
Perhaps hitting is the most nerve racking part of a baseball tryout, but nothing has changed from the last time you were in the batters box in a game. The basics are still the basics.
(1.) Scouts like to see smooth, quick and compact level swings; Unless you're the exception unorthodox or exaggerated batting stances are not well received;
(2.) Know the Strike Zone. Pitchers have the advantage regardless of age and at this level pitchers have the ability to consistently locate a ball 2-3 inches out of the strike zone. You must demonstrate the ability to not help by swinging at bad pitches.
(3.) Being able to hit a breaking pitch is the one most single issue that will allow you to stand out from all the other hitters.
(4.) Hit with consistency is extremely important. Launching four 450' blasts, out of 20 pitches, over the center field wall is impressive, but to a scout 18 out of 20 solid line drives to the outfield gaps makes a much bigger impression. Consistent and hard contact is very important.
You may be thinking " He didn't give me any secrets to help me," and you're right, because there are No secrets. A scout is looking for a solid 5 tool player who can contribute immediately, but demonstrates the ability to improve every year. That's what makes stars. That's what makes winning teams and that's what keeps the baseball scout earning a paycheck
Baseball-Scout to Learn Youth Baseball Coaching
---