Angel Stadium
Angel Stadium, 4th oldest active ball park, is the long-time home to the Los Angeles Angels baseball team which plays in the Western Division of the American League. Known originally as Anaheim Stadium, then Edison International Field of Anaheim, it's commonly referred to as the Big A.

In 1964 when the California Angels, who had been playing their home games in Dodger Stadium, which they had rented for the 4 previous years, agreed to move to Anaheim, stadium construction began immediately.

The stadium was constructed on 160 acres of land used for agricultural purposes, located in the Southeast portion of Anaheim, near residential areas and tourist attractions.


The Los Angeles Rams football team offered to move from LA to Anaheim if the stadium underwent substantial changes in order to better suit a football agenda.

In order to provide the amenities the rams required the stadium was enclosed with an additional 23,000 upper deck and mezzanine seats which encompassed the entire playing field. Banks of bleachers were installed in left and right field with the right field bleachers being elevated with moveable banks of seats located underneath which were used for football games.
This reconfiguration of the stadium created changes which did not sit well with all fans, as the view of the Local Mountains and State Highway 57 were now blocked.

Additionally, and perhaps more upsetting, was the removal of the Big A  scoreboard support in left field, which had been the reason the stadium name was coined the Big A, to the Parking Lot, it's current location.

Additional Renovation: Two major incidents, over a two year period, created a need for a complete renovation of the ball park.

(1) In 1994 the Rams left Anaheim for St. Louis, which made the multi-purpose stadium a one sport venue … and …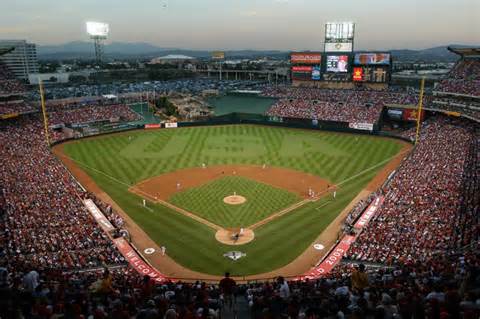 Angel Stadium
(2) In 1996 the Walt Disney Company became the majority share-holder of the Angels baseball team. Disney, owners of the nearby Honda Center which housed the Mighty Ducks of Anaheim hockey team, agreed to new terms with the city which would keep the Angels in Anaheim until 2031, with an option to leave in 2016.

The driving theme of the extensive renovations was to return the ball park to a Baseball Only facility. Some of the extreme changes were:

1. Installation of Outfield bleacher pavilions …

2. A video display & scoreboard installed below the right field seats…

3. The replacement of all stadium multi-colored seats with Green seats.

4. The exterior of the facility was either renovated or removed in order to provide a more airy and fan friendly atmosphere …

5. Perhaps the fans' favorite was the restoring of the views of the  San Gabriel & Santa Ana mountains, the Brea Hills and Highway 57 beyond the outfield.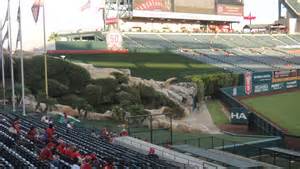 Angel Stadium
The California Spectacular was the prime man-made ornament to the park. Located outside the Left Center Field fence, the water feature erupts geysers of water into a steadily running stream which cascades down a mountain side of real trees artificial boulders.

Fireworks shoot out of the display for every Angel home run or victory.

 Anaheim Stadium Specifics:

1. Former Names: - Anaheim Stadium & Edison International Field Of Anaheim.

2. Location: - 2000 Gene Autry Way Anaheim, Cal. 92806

3. Date Ground Broke - August 31, 1964

4. Date Opened - April 19, 1966

5. Playing Surface - Grass

6. Seating Capacity - 45,389
7. Field Dimensions: 
Left Field - 330 feet

Left Center Field - 387 feet

Center Field - 400 feet

Right Center Field - 370 feet

Right Center Field ( Shallow ) - 365 feet

Right Field - 330 feet

Back Stop - 60 ½ feet
Angel Stadium to Baseball Stadiums
Check Out www.ballparks.com/baseball/american/anahei.htm for more info
---